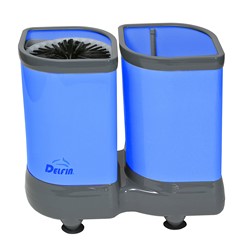 Delfin TS2100 Tall Glass Washer Blue
---
Case (1x1) Blue. 40x35.5x20cm
Delfin TS2100 Tall Glass Washer is ideal for longer glasses or beer glasses with handles. Space saving & HACCP approved for cleaning & rinsing in one sink. Lipstick marks removed easily. Because glasses are washed & rinsed in cold water they are immediately ready for reuse, no waiting for glasses to cool down. 4 suction feet keep unit stable and with its rounded casing, no sharp edges to worry about. Simple to install, compact, economical & hygienic. 
Dimensions: 40cm wide x 35.5cm high x 20cm deep.
Product Files
No product files are currently available for this product.